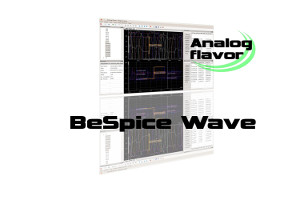 BeSpice Wave is a graphical waveform viewer for analog spice simulation results and lab measurements. It features fast loading, displaying and updating for multiple waveform file formats. It allows to perform measurements and to post-process the loaded data. The resulting curves can be exported for further processing.
A demo version for evaluation purposes can be downloaded from our download section. This version only parses spi3 raw files and csv files. It does not allow any post-processing. It can be used for example with ngspice.
Key Features
High performance analog waveform viewer.

Extensible graphical user interface. An extension included to our evaluation version is the MPOD data logger.

Fast access and automatic reload for multiple waveform file formats.

The supported formats are: psf, psfxl, tr0, ac0, cou, vcd, csv, tabulated data, Touchstone s-parameter files, spi3 raw files, tdms files, csdf files, PSpice dat files, tmf, amf, mmf, nmf, dmf files (Dolphin Integration Smash).

Support for n-dimensional csv files.

Plug-in API for unsupported waveform formats.

Measurement tools: cursors and annotations.

Drag and drop to text editors, Microsoft Excel or Open Office Calculator.

Export to various formats including csv, tdms, vcd and spice pwl sources.

Post processing: FFT, data reduction, eye pattern and a Matlab-style waveform calculator.

Highly configurable graphical user interface.

Can be controlled interactively over socket connection

For software developers BeSpice Wave is available as widget for Windows, Qt, wxWidgets, Gtk, Tk or Python integration.
Software developers can also access the underlying waveform parser library.